Cracked Bricks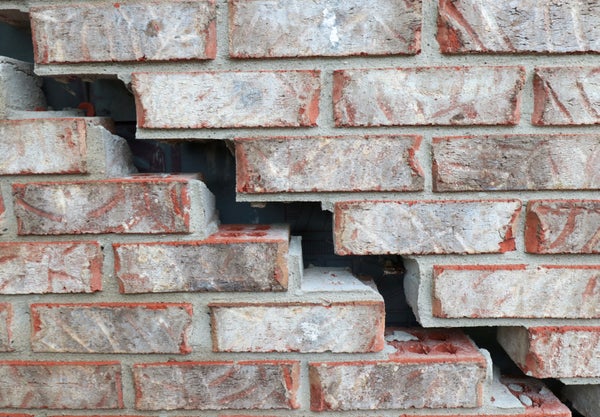 The presence of cracked bricks is more than an aesthetic issue—it serves as a sign of a significant underlying foundation concern with your home.
At Baker's Waterproofing, we understand the stress that foundation issues can cause homeowners. As homeowners ourselves, we realize your home is your most significant investment, and we're committed to providing you with the peace of mind that comes with knowing your foundation is in good hands.
That's why we offer swift, effective, customized foundation repair solutions to Pennsylvania and West Virginia residents. Whether you're dealing with cracked bricks, bowed walls, or settlement issues, our experts have the skills and experience to do the job right.
What are Cracked Bricks
Cracks on brick walls often follow a stair-step pattern along the mortar lines. They can range from fine hairline fractures to more significant gaps or deteriorating mortar. Yet, their impact is more than just visual; they signal that your home has foundation issues. 
What Causes Brick Cracks?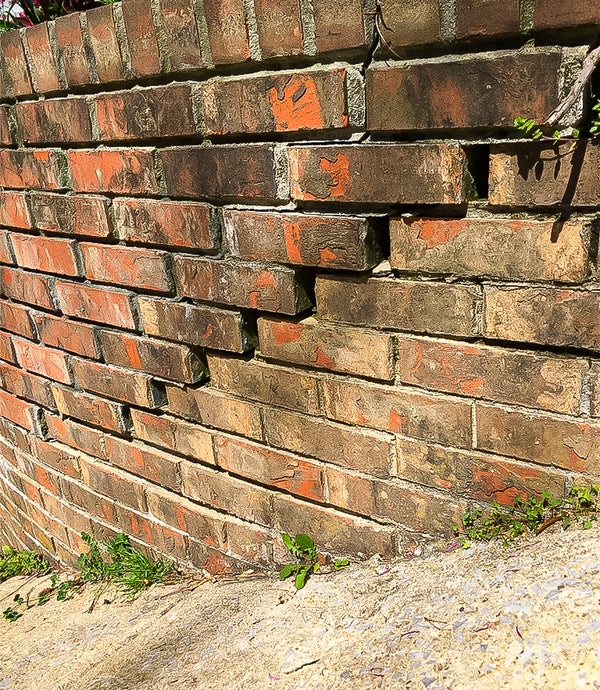 Brick cracks originate from external forces impacting your home's foundation. When the foundation sinks or shifts, it exerts pressure on the exterior brick walls, leading to cracks.
Several factors contribute to the development of cracked brick walls:
Foundation Settlement – When the ground beneath your foundation sinks or moves, it disrupts the overall stability of the structure. This uneven weight distribution stresses the brick walls. Foundation settling is often triggered by problematic soils like expansive clay.
Tree Roots – Intrusive tree roots extending beneath your foundation can displace bricks and mortar. They alter the composition of the soil and infiltrate vulnerable areas.
Soil Challenges – Expansive soil beneath your residence may undergo shifts and displacement due to fluctuations in moisture levels. This irregular soil movement puts pressure on the integrity of both foundations and brick walls.
Can You Fix Cracked Bricks?
Yes. However, repairing brick cracks is a complex job that should be left to experts. Baker's Waterproofing has over 25 years of experience in this field and knows how to adequately address the underlying foundation problems that cause brick cracking in the first place.
Short-term crack fillers and mortar repair kits from big box stores may seem quick and easy, but these DIY foundation repairs are only temporary. The cracks will reappear and worsen unless the underlying cause of the problem is addressed.
Attempting to repair your home's foundation yourself can also be dangerous and lead to unintended consequences. Trust qualified foundation repair experts like Baker's Waterproofing.
How to Fix Cracked Bricks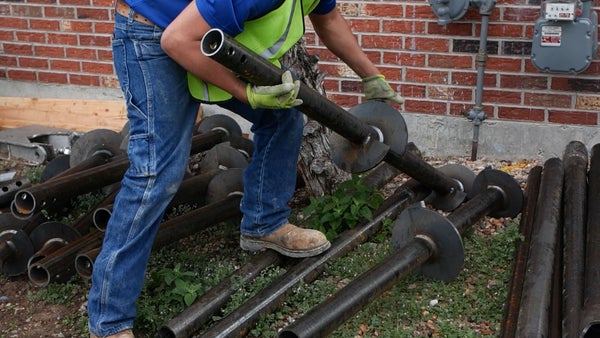 When you select Baker's Waterproofing, you access tailored solutions, such as helical piers and push piers. These piers are installed beneath the foundation, anchoring into the ground until they reach bedrock. They elevate and stabilize settling foundations.
Additional remedies that target the underlying causes of foundation damage include:
Wall Anchors – Steel anchors are embedded in the foundation walls and securely fastened into stable soil on the exterior. This counters inward bowing and cracking.
Carbon Fiber Wall Reinforcement – We attach carbon fiber straps to bowing basement walls using epoxy. The exceptional tensile strength provides stability to brick walls.
Why Address Brick Cracks Now?
While it might be tempting to overlook minor brick cracks, failing to address them promptly can escalate underlying issues over time. Here are a few reasons why you should quickly attend to the matter:
Avoid Expensive Repairs – Addressing foundation issues sooner rather than later leads to reduced damage and lower repair expenses in the future.
Prevent Moisture Infiltration – Cracks permit water infiltration into your basement and crawl space, fostering mold growth and wood rot.
Restore Home Value – The presence of cracked and deteriorating brick walls detracts from the aesthetic beauty of your home, deterring potential buyers. Structural repairs enhance the overall property value.
Contact AquaGuard Foundation Solutions for Cracked Brick Repairs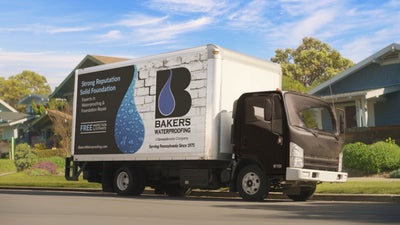 If you've noticed cracked bricks on the exterior of your home, contact Baker's Waterproofing. We provide complimentary inspections to identify the root causes and can offer a repair estimate on the same day. Our skilled technicians specialize in foundation repairs, ensuring a lasting stabilization of your brick walls. 
Brick Cracks FAQs
Horizontal cracks are usually a sign that the wall is bowing, often due to high soil pressure or foundation settlement. These cracks signal structural instability, highlighting the need for foundation repairs. 
The key areas of focus are brick veneers, basement walls, and the chimney. Cracks in these areas may initially seem subtle or inconspicuous. 
Reapplying mortar to the brick cracks won't halt additional cracking. It's imperative to tackle the underlying foundation issues beforehand, and then proceed with re-grouting the brick. 
Publish Date:
Last Modified Date:
Explore more problem signs