AquaStop™ Basement Sump Pumps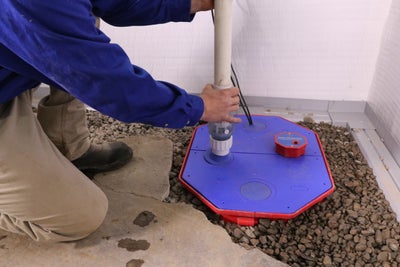 A wet basement can spell trouble for your property, damaging valuables and requiring significant repair costs.
Baker's Waterproofing introduces AquaStop™ Sump Pumps, the best way to safeguard your basement from water, guaranteeing a secure, dry, and healthy environment for your living spaces.
With a legacy of nearly 50 years in providing unwavering basement waterproofing solutions, our dedication to delivering exceptional customer service and high-quality solutions to homeowners remains unparalleled.
Discover the vital role a reliable sump pump system plays and how AquaStop™ can become your answer to persistent basement moisture issues.
What is an AquaStop™ Sump Pump System?
AquaStop™ Sump Pump Systems from Baker's Waterproofing are designed to collect water from your internal perimeter drainage system, removing it safely away from your home's foundation. It offers more than protection against flooding and structural harm; it ensures your living environment remains secure and healthy.
Features like water alarms, sump liners, airtight lids, and superior cast-iron pumps make the AquaStop™ Sump Pumps an unrivaled combination of reliability and efficacy.
Signs You Need a Basement Sump Pump
Identifying the indicators that a sump pump is needed in your basement is essential. These indicators might include:
Persistent dampness on basement walls
Distinct, musty smells
Mold
Efflorescence on walls or flooring
Elevated humidity levels in the basement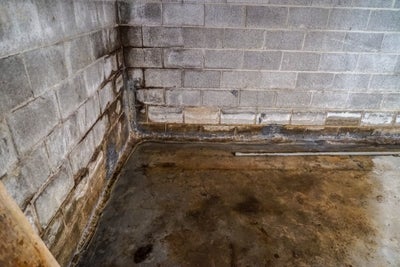 Spotting any of these signs? Contact Baker's Waterproofing immediately to protect your home from potential water damage, avoiding additional damage and increased repair costs.
Is a Sump Pump Necessary?
Yes, a sump pump is a key element of your basement waterproofing strategy. Without it, water accumulated by your drainage system could lead to mold, mildew, and initiate structural damage. Act quickly to prevent the hassle of handling more intense issues down the line.
AquaStop™ Sump Pumps smoothly integrate into an entire home solution, prioritizing the enhancement of your living space's health and safety.
What Are the Different Kinds of AquaStop™ Sump Pumps?
Understanding that each home has its unique requirements, we present a diverse array of AquaStop™ sump pump systems, custom-made to cater to your specific basement conditions.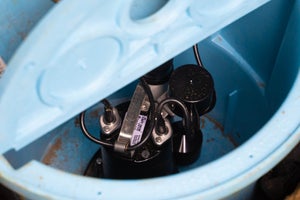 AquaStop™ Basement Single
This cast iron pump is suited for standard water removal and is available in two sizes—either a SafeDri™ ⅓ hp or ½ hp pump. The ⅓ hp pump expels over 2,000 gallons of water per hour, while the ½ hp variant disposes of over 3,000 gallons per hour.
AquaStop™ Basement Single with Battery Backup
As an add on to the Single, this system includes a battery backup to keep your basement dry even during power outages. It's capable of discharging more than 11,500 gallons per hour of battery power.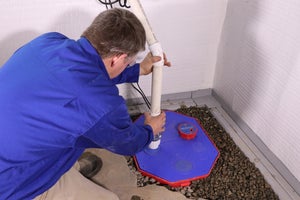 AquaStop™ Basement Triple
Offering the 'ultimate peace of mind', this system has three pumps for maximum protection. The primary SafeDri™ 1/3 hp pump manages day-to-day water removal, a secondary SafeDri™ 1/2 hp pump increases capacity for substantial volumes, and a third, battery backup pump ensures function during power outages.
Our specialized team will assess your basement conditions and recommend the most fitting AquaStop™ system for your household.
What Are the Benefits of the AquaStop™ Sump Pump System?
With an AquaStop™ sump pump system, you enjoy a range of benefits:
Assured Basement Dryness: Rapid water removal to prevent flooding and mitigate moisture damage.
Comprehensive Protection: Full compatibility with other basement waterproofing components like interior drainage, vapor barriers, and dehumidifiers.
Dependable Pumping: With options for up to triple redundancy and battery backups, AquaStop™ ensures consistent pumping even amid extreme weather or power failures.
Prolonged Protection: Engineered for decades of hassle-free operation, with our annual maintenance plans ensuring peak performance.
How AquaStop™ Sump Pumps Work
Once a Baker's Waterproofing expert establishes that AquaStop™ is the optimal fit for your basement, we proceed with a thorough installation procedure, as detailed below:
Determine the lowest point of the basement
Excavate the floor to accommodate the sump liner
Excavate the perimeter for the interior drainage system
Place interior drains in the trench
Connect drains to the sump basin
Place pumps and components in the sump liner
Add interior sump pump discharge pipes
Direct discharge pipes through the basement wall
Install exterior discharge pipes, extensions, and anti-freeze discharge line attachment
Run electrical hookup to control panel
Attach battery backup if deemed necessary
Test the pumping system
Attach an airtight lid to the sump basin
Pour cement to restore the concrete floor
Here's how the system continuously ensures a dry and secure basement:
The internal drainage system captures leaking water.
The water is led to the sump pump system.
When water in the basin reaches a specified level, the pump is activated.
Water is removed from the basement and redirected away from your home.
Trust Baker's Waterproofing for steadfast installation services to ensure your sump pump and basement waterproofing system function flawlessly.
Why Our Sump Pumps are the Best Choice for Your Home
AquaStop™ sump pumps introduce several of unique features:
Superior cast iron pumps
Water alarms
An airtight lid
Multiple layers of protection
Compatibility with other solutions
Options for battery backup
Annual maintenance service plans
Comprehensive transferrable warranties
Choose Baker's Waterproofing for unparalleled sump pump systems and whole-home solutions.
Contact Baker's Waterproofing for Your Sump Pump Solutions Now!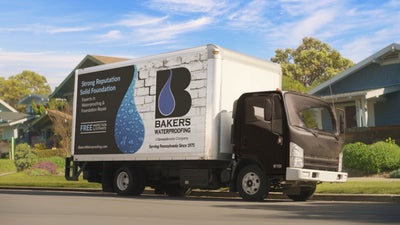 Don't let a leaky basement ruin your home! Baker's Waterproofing is here to help you navigate through the storms with our reliable sump pumps and basement waterproofing solutions.
Contact us today to schedule your free inspection and estimate. Our AquaStop™ sump pumps are designed to safeguard your home for the future.
FAQs
It depends. It's particularly important for homeowners who experience regular power outages, or for those who don't frequent their basements often. Installing an AquaStop™ sump pump with a battery backup ensures your basement remains dry even when the power is out. 
AquaStop™ sump pumps, especially the Triple Pump model, are designed to manage significant water intrusion, ensuring you are protected even during the heaviest rainfall or flooding events. 
A cover can prevent debris from entering the pit, reduce noise and smells, and enhance safety, especially for homes with small children and pets. 
Publish Date:
Last Modified Date: