Basement Waterproofing and Foundation Repair in Clarksburg, WV
Clarksburg naturally experiences above-average amounts of rain and snow. It also contains clay and sandy loam soils. This combination can be detrimental to your foundation and causes structural problem signs. Baker's Waterproofing has world-class experience and solutions that protect your home from damage.
Services
Date & Time
Contact Info
Complete
Schedule Your Free Inspection
What do you need help with?
Pittsburgh Local Office
Baker's Waterproofing
5 Industrial Rd., Building A
Washington, PA 15301
(412) 838-4948


Hours of Operation
Monday – Friday: 7 am – 9 pm
Saturday: 8 am – 6 pm
Sunday: 10 am – 7 pm
Award-Winning Solutions in Clarksburg
Baker's Waterproofing, a Groundworks Company, specializes in helping homeowners with their foundation repair, basement waterproofing, crawl space, and concrete needs. Our top priority is providing high-quality home repair solutions and personalized service across West Virginia. With fully trained technicians, industry-leading products, and nationally backed warranties, Baker's is here to restore your foundation or basement.
Why Homeowners Choose Baker's Waterproofing
Since 1975, Baker's Waterproofing – a Groundworks Company – has specialized in the installation of high-quality products for foundation, basement, crawl space, and concrete issues such as foundation cracks, musty odors, excess humidity, and a multitude of other problems. Many homeowners throughout West Virginia and Pennsylvania trust us with their foundation repair needs because we are proven to be the best in the business. At every point of contact with our staff, we strive to exceed the expectations of our customers. Customer service, knowledge, and high-quality equipment put us at the top of the list!
Our Services for You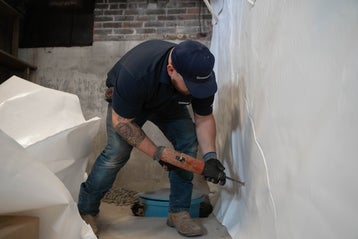 Basement Waterproofing in Clarksburg
Owning a basement shouldn't mean you're forced to deal with hazardous problem signs like basement flooding, water damage, or cracking walls. Unfortunately, Clarksburg's 47 inches of annual rain and 34 inches of annual snow make these issues hard to avoid. When precipitation is absorbed by the area's sandy and clay loam soils, water drains below the surface and puts immense pressure on your basement walls. In turn, water leaks through cracks and leaves you with a wet basement. Baker's Waterproofing keeps your basement protected with solutions like below-floor drains, dehumidifiers, and sump pumps for high-quality moisture control.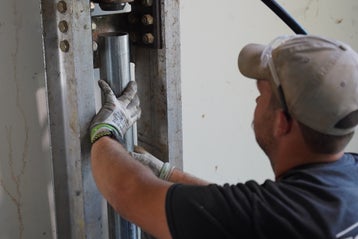 Foundation Repair in Clarksburg
Every single home depends on its foundation for support, but did you know that every foundation depends on sturdy soil for its own support? Clarksburg's weather conditions cause some problems for your foundation, especially when it rains or snows. Water mixes with the area's sandy or clay loam soils, causing settlement sinking or foundation heave, respectively. When your foundation is damaged like this, structural issues arise throughout your home such as bowing walls, stuck doors and windows, or uneven floors. Stabilizing and protecting your foundation is possible with foundation solutions from Baker's. We use industry-leading tools like pier systems, wall anchors, and crawl space support jacks to provide stability to your foundation.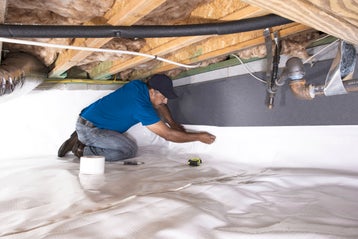 Crawl Space Repair & Encapsulation in Clarksburg
Crawl spaces are an effective way to provide your home with extra protection from flooding and serve as a central area for home utilities like electricity and plumbing. For that reason, keeping your foundation protected from moisture is important. Since they are exposed to the outdoors through open vents and raised footings, these foundation types face constant hurdles. Clarksburg's muggy summers and high amounts of rain and snow transfer tons of moisture into your crawl space. This leads to unhealthy mold, wood rot, high humidity, and more problem signs in your home. Baker's Waterproofing has solutions designed to keep your crawl space dry such as vapor barriers, vent covers, and crawl space drains that move water away from your home and keep it out for years to come.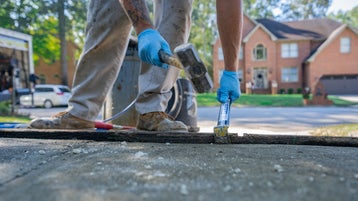 Concrete Lifting & Leveling in Clarksburg
Concrete needs stable ground to function properly, but heavy precipitation and loamy soils in Clarksburg make this a challenge. If the soil in your yard is more clay-based, precipitation causes it to expand and push up against concrete on your property. If the soil is more sand-based, it will be broken down by rain and snow, which causes heavy concrete to sink into the weakened ground. In both cases, you are left with cracked and uneven concrete. While this doesn't look very pleasant (and may even lead to a tripping accident), Baker's Waterproofing has an innovative solution that solves the problem: PolyRenewal™. This polyurethane injection system quickly lifts and supports concrete in just 15 minutes. Plus, its waterproof design protects soil from becoming expanded or eroded in the future. 
FAQs
About Waterproofing, Crawl Spaces & Foundation Repair in Clarksburg, WV
In the simplest possible terms, hydrostatic pressure is pressure or weight exerted on the structure of your property by the soil around it. This weight can increase or decrease based on the amount of water in the soil and, as such, is impacted by the weather, snowmelt, and even underground water sources. In fact, a plumbing flood could also contribute to the levels of hydrostatic pressure around your property, especially if it is serious or prolonged.

All properties have to deal with some level of hydrostatic pressure, of course, and they are designed to withstand it to a certain extent. The real troubles begin when the level of hydrostatic pressure around your home exceeds its ability to withstand it. When this happens, damage is sure to be the result. Spreading cracks, fragmentation, and bowing walls are just some of the issues that can come about as a result of hydrostatic pressure.

Ensuring that your property has good drainage options in place is one of the best things that you can do to prevent hydrostatic pressure from reaching untenable levels around your property. This means making sure that your gutters are clear, that you have adequate ground level drainage, and that the interior of your property is protected from water. Preparing your yard via grading and proper planting can also be of great help when it comes to managing moisture in the soil effectively.
Foundation damage is one of the most serious issues that can affect any property. It can result in ongoing cosmetic damage and costly repairs, become dangerous for your family, and render your house unliveable the longer it goes unrepaired.
That's why it's important to reach out to local foundation professionals for an inspection and repairs as soon as you notice something is wrong with your home.
Foundation damage can take many forms, but the top concerns to be on the lookout for include wall cracks in your basement and drywall, uneven floors, and windows and doors that are difficult to open and close.
SettleStop PolyRenewal™ foam injection is one of the most effective concrete lifting products on the market today. Compared to older methods like mudjacking, polyurethane foam is less messy, less likely to overburden already weak soil, cures quickly, and easier for skilled professionals to install.
During a professional inspection, our experts at Baker's Wateproofing will determine the area and amount needed for installation. When the crew arrives to lift your concrete, here's a look at their process:
Small, penny-sized holes are drilled into the affected concrete.
Injection ports are placed in these holes.
The two-part foam is mixed.
The foam is injected under the concrete, expanding to fill voids between the soil and slab.
The slab lifts back to the proper height as the foam cures (within 15 minutes).
The injection ports are removed.
The drilled holes are filled and sealed, as are any visible cracks.
If you notice sudden rises in your energy bills, your supplier may have raised their rates. However, your home also could be the problem, especially if you have a crawl space with open vents. These vents bring in hot and humid summertime air, as well as cold winter air, and the precipitation that comes with each season.
Because of the stack effect, the natural airflow in a building from bottom to top, the air in your crawl space travels upward. Whether it is cold or warm, this air makes it difficult for your HVAC to maintain a consistent, comfortable temperature, and will continue to run. Thus, your energy bills will be higher than normal.
To combat this issue and create a more comfortable and energy-efficient home, consider encapsulating your crawl space.