Basement Dehumidifier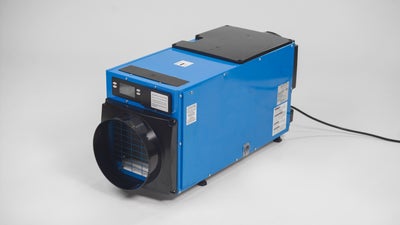 Humidity, mold, and musty odors are prevalent basement issues that can jeopardize both your home and well-being. The Baker's Waterproofing AquaStop™ Basement Dehumidifier Solution functions as a proficient dehumidifier and filtration system, effectively addressing these concerns. This results in a dry, comfortable basement and an overall healthier living space.
Baker's Waterproofing stands as the leading expert in basement waterproofing and humidity control. We deliver comprehensive basement solutions to guarantee a healthy home environment.
This page walks you through our exclusive basement waterproofing solutions, showcasing how they improve your well-being and enhance the overall quality of your life.
What is the AquaStop™ Basement Dehumidifier?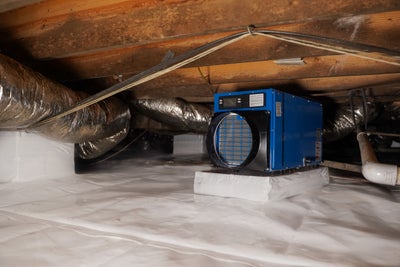 The AquaStop™ Basement Dehumidifier System offers innovative dehumidification technology engineered to address basement humidity issues with precision.
It can extract up to 100 pints of moisture from the air daily and efficiently circulate over 300 cubic feet of dry air per minute, rapidly drying out even the largest basements. Despite its powerful performance, it maintains a sleek, compact design, avoiding the bulkiness commonly associated with traditional dehumidifiers.
As a vital element of our comprehensive basement waterproofing and humidity control solution, our system addresses water seepage through interior drainage and sump pump systems. Additionally, it combats vapor intrusion with a robust wall vapor barrier. The final step involves installing a dehumidifier in your basement to eliminate any remaining humidity.
This holistic approach guarantees a dry, healthy environment in your basement and throughout your entire home.
Signs You Need a Basement Dehumidifier 
If you experience any of the following issues, it's a clear indication that a dehumidification solution is needed:
Humidity and poor air quality in your basement
Efflorescence
Humidity in your basement
Wet basement walls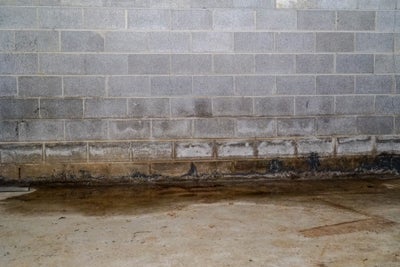 Addressing early signs of humidity issues with professional assistance is crucial to avoid more severe problems. If you notice any of these indicators or suspect an issue in your basement, don't hesitate to contact Baker's Waterproofing. Taking swift action can save you time, money, and unnecessary stress.
Is a Basement Dehumidifier Necessary?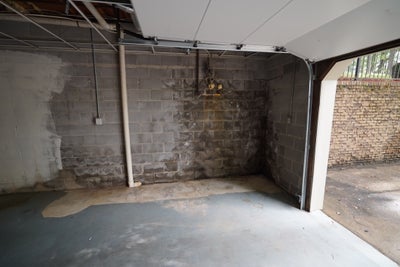 Yes, a basement dehumidifier is not a mere luxury, but a vital necessity. Lingering humidity in basements can lead to mold growth, structural damage, escalating repair costs, and an unhealthy living environment.
Standard dehumidifiers often fall short when it comes to handling large basements and substantial moisture levels. They also require frequent emptying, which can be both inconvenient and messy.
Our AquaStop™ Basement Air System is a robust and efficient dehumidifier designed to actively extract moisture from the air and regulate the environment in your basement. It plays an indispensable role in our whole-home solution, ensuring you avoid the challenges associated with basement humidity.
What Are the Benefits of the AquaStop™ Basement Air System? 
The AquaStop™ Air System offers a multitude of advantages, including:
High moisture removal capacity: The AquaStop™ Air System removes up to 100 pints of moisture per day, significantly reducing humidity levels in your basement.
Energy-efficient operation: The system operates more efficiently than other dehumidifiers, making it a sustainable choice.
Mold prevention: The AquaStop™ Air System maintains a relative humidity level below 60%, which helps to prevent mold growth.
Odor elimination: As moisture levels decrease, stale, musty odors are eradicated. The AquaStop™ Air System also filters the air, leaving your basement smelling fresh.
Whole-home benefits: Reducing humidity in your basement can help to improve air quality and reduce moisture-related issues throughout your entire home.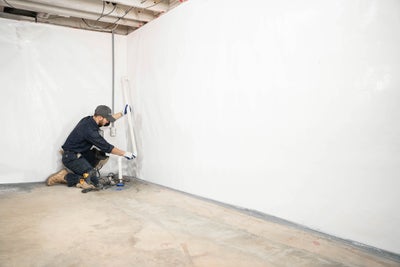 Employing our unique solutions and depending on our expert installation services is crucial for maximizing these benefits. Our products are engineered to surpass those found in typical retail outlets, guaranteeing unmatched quality.
How the AquaStop™ Basement Air System Works 
We follow these steps when installing the AquaStop™ Basement Air System:
We perform a free basement inspection to assess dehumidification requirements.
Apply a vapor barrier to envelop the basement walls.
Install an interior drainage system.
Place a sump pump in the lowest part of the basement.
Connect the interior drains to the sump pump.
Strategically position the dehumidification unit for optimal airflow circulation.
Connect the air system to the drainage system or condensate hose for efficient water disposal.
Set and program digital controls to preferred settings.
Conduct testing to ensure optimal moisture removal performance.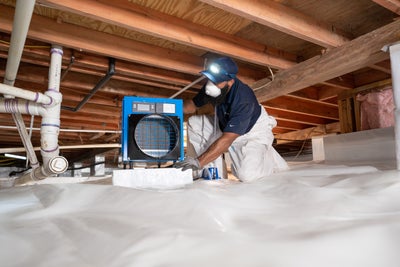 Baker's Waterproofing customizes basement waterproofing solutions to cater to the specific needs of every home.
Why Our Basement Dehumidifier is the Best Choice for Your Home 
Here's why high-quality dehumidifiers such as the AquaStop™ Basement Air System outperform other choices:
Impressive Moisture Removal: Capable of extracting up to 100 pints daily
Effortless Draining: Moisture is automatically directed, eliminating the need for manual emptying
High Efficiency: Circulates over 300 cubic feet of dry air per minute
Reliable Performance: Holds an ENERGYSTAR rating for added reliability
Customized Design: Engineered specifically for basements, distinguishing it from standard retail dehumidifiers
Space-Efficient: Compact size conserves room while ensuring powerful operation
Extended Assurance: Comes with our comprehensive warranty and annual maintenance plan for prolonged protection.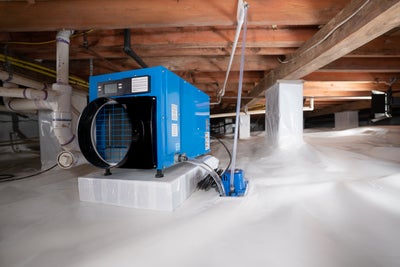 Discover a new level of dehumidification with the AquaStop™ Basement Air System.
Contact Baker's Waterproofing for Basement Dehumidification Solutions Today!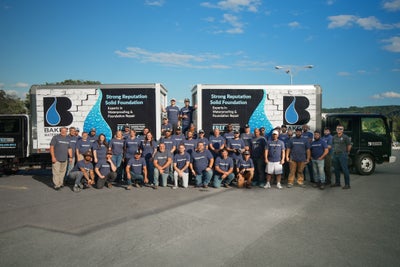 A damp, moldy, and musty basement can present notable health and safety hazards for your home and family. Say goodbye to basement humidity and welcome an improved living space with the installation of a professionally designed dehumidifier. Contact Baker's Waterproofing today to schedule a free inspection and estimate.
Homeowners in Pennsylvania and West Virginia have entrusted us with repairing and protecting their homes for over 30 years. They have depended on our outstanding customer service and top-notch solutions. Experience the assurance that comes with expert basement waterproofing solutions from Baker's Waterproofing.
FAQs
The AquaStop™ Basement Air System can help you keep your basement dry, whether you operate it independently or integrate it with your HVAC system. Contact us for a free inspection and for more information. 
Installation typically takes less than a day, but the timeframe may vary based on specific factors such as your basement's condition and any necessary repairs. We work diligently to ensure minimal disruption. During your free inspection, our experts will provide you with a detailed timeline and financing options to make the process as easy as possible. 
The AquaStop™ Basement Dehumidifier necessitates routine upkeep, which includes cleaning the filter and emptying the condensate bucket. The frequency of maintenance depends on the usage of the dehumidifier and the surrounding environmental conditions. 
Our annual maintenance plans are designed to prolong the life of your AquaStop™ system and maintain its optimal efficiency. Technicians from Baker's Waterproofing conduct thorough inspections of your system, clean and replace filters, and empty the condensate bucket as required.
Publish Date:
Last Modified Date: