Bowing Basement Wall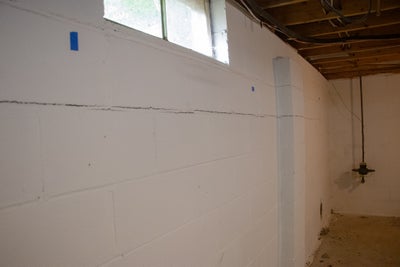 Basement walls are supposed to be solid and upright, not tilting inward. While this is a common problem, it endangers your home and family's safety.
At Baker's Waterproofing, we recognize that bowing basement walls are more than an aesthetic concern—they indicate structural problems that require urgent basement repair solutions.
This guide will give you the knowledge to address bowing basement walls and ensure your home's safety and structural health.
Understanding Bowing Basement Walls
Basements are one of the most common foundation types in our region. These areas are built primarily in the ground, causing basement walls to face damaging influences, such as soil and moisture conditions.
Inward bowing is one of the problems your basement walls may experience. This movement is often most evident in the center of the wall.
Bowing is often accompanied by various types of wall cracks, such as:
Horizontal cracking
Cracks in a stair-step pattern in concrete block walls
Diagonal cracks at the corners of poured concrete walls
Why Do Basement Walls Bow Inward? 
Basement wall bowing occurs for various reasons, such as:
Poor Drainage and Waterproofing Measures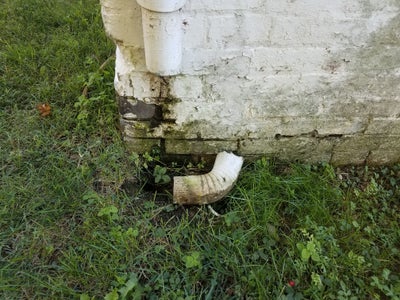 Regions with fluctuating weather require efficient drainage mechanisms like gutters and downspouts. Poor drainage saturates the soil around the walls, increasing pressure and water damage. Inadequate or faulty basement waterproofing can also lead to wall damage, including bowing.
Soil Composition and Hydrostatic Pressure 
Different soil types, like clay, are highly susceptible to moisture changes, which results in significant expansion and contraction. These cycles create an excessive force on the wall known as hydrostatic pressure, which causes basement walls to bow and crack over time.
Freezing and Thawing Cycles 
Similar to the changes in soil moisture, seasonal temperature fluctuations can also affect the structural integrity of basement walls. Porous concrete basement walls and wall cracks cause moisture intrusion. The freezing and thawing of water within walls also leads to immense stress and pressure, resulting in further bowing and cracking.
Foundation Settlement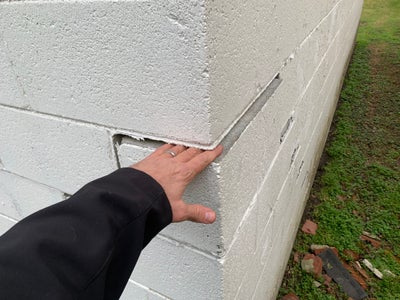 The soil under and around your home can suffer from other problems that lead to foundation settlement. While it is a different issue, sometimes it can be connected to basement wall problems like bowing. Shifts in your home's foundation can lead to uneven stress distribution on the walls, causing them to move inward.
Subpar Construction Practices 
Bad things sometimes happen during the home construction process. Poor building techniques or inappropriate material use can also result in bowing walls, making them less resilient to environmental pressures.
Is Repairing Bowing Basement Walls Possible? 
Yes, most bowing walls can be successfully repaired. The key to effective repair is keeping a vigilant eye on the condition of your basement walls. The earlier you catch a problem, the easier it can be fixed.
Accurate diagnosis is crucial for reliable treatment. You can trust Baker's Waterproofing to pinpoint the root cause during a free and thorough evaluation and offer customized, lasting solutions.
Methods for Repairing Bowing Walls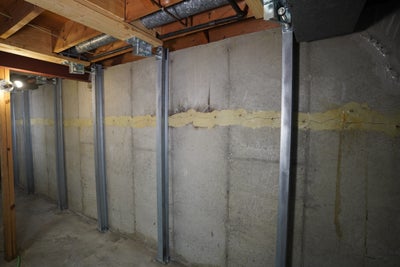 At Baker's Waterproofing, we understand wall repair is not a "one-size-fits-all" solution, which is why we offer various customizable products:
Carbon Fiber Reinforcement: If your basement walls have minor to moderate damage—including less than two inches of inward movement—they may benefit from carbon fiber straps. These low-profile reinforcements provide tensile strength to stabilize walls and hold them in their current positions.
Steel I-Beams: Walls with more severe damage require a different approach. Our proprietary I-beam system offers strong support and stability to bowed areas. The beams can be adjusted to improve the walls' appearance over time.
Wall Anchors: Durable wall anchors are another method for permanently reinforcing and potentially returning walls to their original positions. These anchors attach to the interior basement walls and are secured in stable exterior soil, counteracting inward bowing pressures.
Additionally, effective moisture management solutions that help reduce hydrostatic pressure and its negative effects include:
At Baker's Waterproofing, we utilize top-grade materials and advanced methods that are tailor-made to address the root causes of bowing basement walls in your home.
The Importance of Timely Repairs 
Procrastination can exacerbate the problem and make repairs more complicated. Here's what will happen:
Continued bowing worsens over time because of increasing soil pressure and water damage.
Cracks widen, allowing more water intrusion that further deteriorates walls.
Buckling walls do not support your home's structure and floors above.
Severe bowing can lead to catastrophic wall failure and potential collapse.
As walls deform further, repairs become increasingly invasive and costly.
A thorough consultation and professionally installed repairs are the keys to avoiding these safety hazards.
Choose Baker's Waterproofing for Long-lasting Wall Repair Solutions 
Short-term fixes do not ensure your home's safety or structural integrity. Our team at Baker's Waterproofing understands how frustrating basement repair can be. We also know exactly how to fix it.
We employ innovative diagnostics and premium reinforcement technologies for a permanent solution. Contact us today for dependable, enduring answers to your bowing basement wall problems. Schedule your free inspection now! 
FAQs
Selling a home with bowing basement walls can be challenging, as it may raise concerns for potential buyers about the structural integrity of the property. It's best to have the issue addressed and repaired by a professional like Baker's Waterproofing before listing your home for sale. This can help attract buyers and provide confidence in the condition of the basement walls.
Bowing basement walls are a serious structural issue, and attempting to fix them alone can be risky and ineffective. Consult with a professional basement repair company like Baker's Waterproofing to ensure the proper diagnosis and appropriate repair solutions are applied.
The extent of repair needed depends on the severity of the bowing. However, Baker's Waterproofing provides effective and efficient solutions that minimize disruption to your home. We offer competitive pricing and financing options to make the repairs more affordable.