Foundation Piers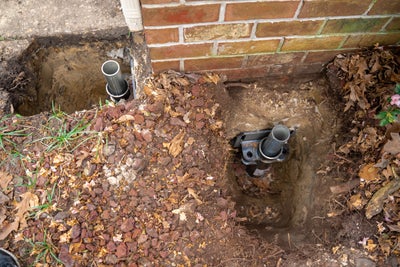 Your home's foundation is its cornerstone, providing essential strength and longevity. When settlement occurs, it jeopardizes both the structural integrity of your home and the safety of your family.
Foundation settlement can show itself in many ways, such as uneven floors and stair-step cracks in walls. These problems can be very concerning for homeowners, and they need to be addressed quickly.
Baker's Waterproofing specializes in implementing foundation repair solutions, with a focus on utilizing foundation piers that offer lasting stabilization and the potential to even lift your settling foundation. Our range of pier options, including push, helical, and slab, are tailored to address your specific repair requirements, ensuring a secure and steadfast home.
Learn more about the importance of foundation piers and why Baker's Waterproofing is your trusted resource for repair.
What Are Foundation Piers?
Foundation piers are essential structural elements that can provide permanent stability to your home, regardless of shifting or expansive soil conditions. They are driven deep into the ground to reach stable soil or bedrock, providing the support your foundation needs.
Each pier acts as a stable column, allowing the weight of the home to be transferred through the piers and down into stable ground. This prevents future settling and allows the opportunity to lift the house back towards its original position.
Foundation piers can be part of a broader strategy for whole-home solutions, including basement waterproofing and crawl space repair. In short, foundation piers are essential to a comprehensive approach to maintaining your home's structural health.
Signs You Need Foundation Piers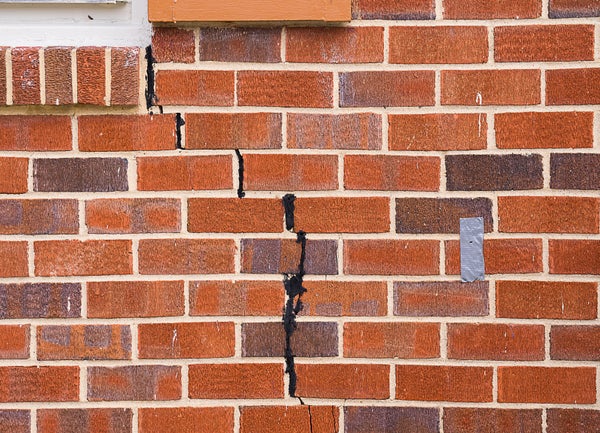 The first step to solving a settling foundation is to recognize the signs. Here are the common causes of foundation issues:
Cracked foundation walls
Drywall cracks and drywall nail pops
Uneven floors
Sticking doors and windows
Cracked bricks
Floor gaps
Cracking or leaning chimney
If you notice any of these signs, contact a foundation repair professional like Baker's Waterproofing right away. We offer free foundation inspections and custom repair solutions.
Are Foundation Piers Necessary?
Yes, foundation piers are essential for providing a permanent solution to stabilize settling foundations and stop further deterioration.
Promptly addressing signs of foundation settlement is essential for cost-effective repairs. Delaying foundation pier installation will only increase costs as the damage worsens.
We offer customized basement repair solutions if there is additional damage, such as bowing walls from hydrostatic pressure. In formulating a tailored repair plan for your home, we account for the type and extent of the damage.
What Are the Different Types of Foundation Piers?
Baker's Waterproofing offers three types of foundation pier systems—helical, push, and slab—to suit Pennsylvania and West Virginia's soil conditions. Each pier system functions similarly yet differs in its application.
Here's how our pier systems work and how we install them:
Helical Piers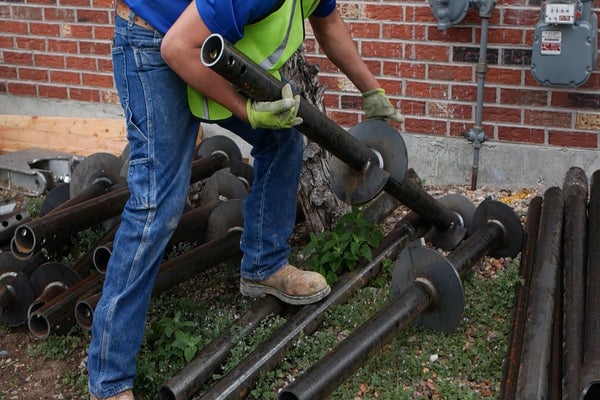 Our SettleStop Helical Pier System functions akin to screws, firmly anchoring your home into the stable soil beneath. This system ensures a solid foundation for your property. Helical piers offer versatility and are well-suited for supporting lighter structures.
Helical pier installation encompasses the following:
Excavating the soil to uncover the footing.
Utilizing hydraulic equipment to progressively drive the piers into the soil.
Monitoring the piers' advancement until they attain the required depths and capacities.
Affixing a sturdy steel bracket to the footing.
Establishing benchmarks on the piers with small rivets in exterior walls.
Backfilling the excavated soil.
Push Piers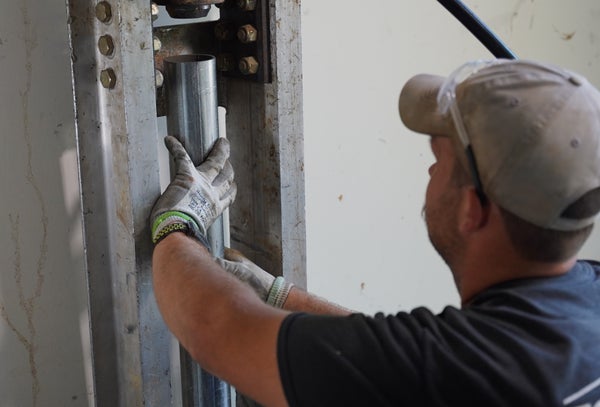 The SettleStop Push Piers function similarly to helical piers, although they vary in design and installation process. Constructed with elongated steel rods, push piers are forcefully driven into the ground with the aid of robust machinery, utilizing the house's structure for stability.
Push pier installation encompasses the following:
Excavate soil to expose the foundation footing
Attach a footing bracket
Drive piers through the bracket, deep into the ground
Monitor depths and capacities
Place benchmarks on exterior walls
Backfill removed soil
Slab Piers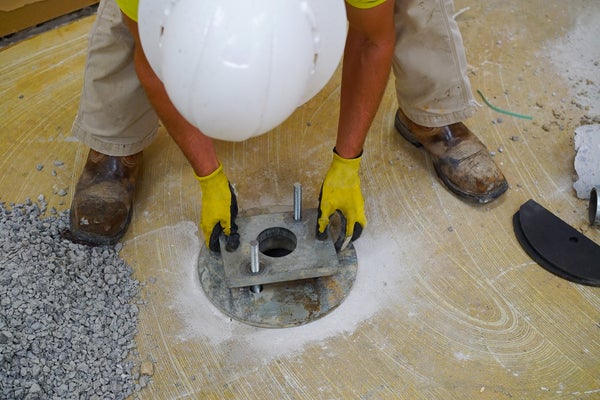 SettleStop Slab Piers offer targeted support tailored for homes with slab foundations.
Slab pier installation encompasses the following:
Removing any flooring
Auguring a hole through the slab to expose the footing
Placing a bracket under the footing
Advancing sections of the piers into the ground
Monitoring depths and capacities
Affixing a bracket to the slab
Pouring concrete into the hole and ensure a smooth finish
Baker's Waterproofing offers a proprietary line of foundation piers tailored to suit your home's foundation.
What Are the Benefits of Foundation Piers?
Our pier systems offer unparalleled durability and longevity. Each installation is tailored to suit your home, providing you with the following advantages:
Long-term Stability: Each pier system is guaranteed to stabilize your foundation permanently.
Prevent Further Settling: Our robust pier systems prevent your home from further settlement.
Avoid Related Foundation Damage: Our piers prevent recurring foundation damage.
Protect Your Foundation: Our durable pier systems ensure long-term foundation protection.
Potential for Foundation Lifting: If the installation crew determines it is safe, they can apply additional pressure to the piers during installation, potentially raising settling sections of your foundation.
Comprehensive Warranty: Each pier is protected by a nationally backed, transferrable, lifetime warranty.
Experience the benefits of Baker's Waterproofing's proprietary foundation pier solutions. Contact us today to learn how foundation piers can stabilize your home.
Why Our Foundation Piers Are the Best Choice for Your Home
Here's what makes our foundation pier systems unique:
Advanced repair systems that surpass standard piers and piles.
Proprietary design optimized for Pennsylvania and West Virginia
Designed for long-lasting durability and performance
Protected by a comprehensive warranty
Included in our annual maintenance service plan
Contact Baker's Waterproofing for Foundation Piers Today!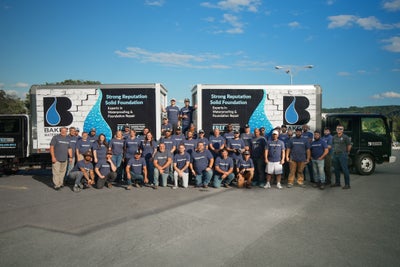 Your home's foundation is its most important structural element. Foundation settlement can cause severe damage to your home, but it doesn't have to. Baker's Waterproofing can repair and protect your foundation, so you can rest assured that your home is safe and stable.
Our experienced professionals provide foundation repair solutions in Pennsylvania and West Virginia. We offer the latest technologies and techniques, providing the most effective and affordable foundation repairs.
Contact Baker's Waterproofing for a free inspection and estimate.
Foundation Piers FAQs
In most cases, foundation piers are the optimal choice for tackling foundation settlement. The type of pier your home needs is contingent on the severity of the damage and the specific foundation type. Contact Baker's Waterproofing for a complimentary inspection to pinpoint the best tailored repair for your home. 
Slab piers offer a specialized foundation repair solution for homes with concrete slab foundations. Contact Baker's Waterproofing for a complimentary inspection to assess whether slab piers or other repairs are necessary for your home. 
We do not recommend installing foundation piers without a professional. The process is highly specialized and requires expertise, experience, and equipment based on your home's foundation and damage. Trust Baker's Waterproofing for your foundation pier installation needs. 
Publish Date:
Last Modified Date: