When you walk across the floor in your house, does it feel like you're on a trampoline or wearing Moon Shoes?
This might seem entertaining for the kids, but it can also be terrifying for anyone with mobility issues. Don't ignore the springiness underfoot – it could mean there is a serious problem with your home's structure.
Don't hesitate to reach out to the professionals at Baker's Waterproofing for assistance. As a trusted local leader in foundation repair, crawl space encapsulation and repair, basement waterproofing, and concrete lifting services, we are dedicated to serving homeowners throughout Pennsylvania. We provide reliable and permanent solutions for crawl space problems, including bouncy floors.
Learn more about this common issue and how our team can help restore your home's comfort, safety, and stability.
The Trouble with Bouncy Floors
Bouncy floors may appear to be a trivial inconvenience, but they often signal severe structural complications within your home – including deteriorated joists or weakened support beams.
The presence of bouncy floors in your home also poses a safety risk. Anyone can trip over unstable flooring and injure themselves.
Failure to promptly address these issues could result in substantial damage and expensive repair costs. If you've noticed an unexpected bounce in your step while walking across the room, it's time to address the issue.
Why Your Home Has Bouncy Floors
Bouncy floors could stem from several causes, including: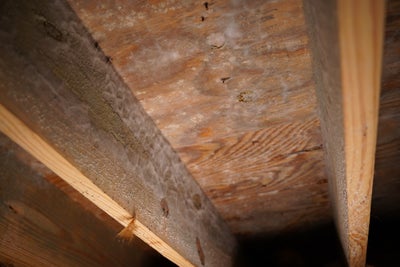 Moisture: If your crawl space is vented, outside air and water easily infiltrate the area under your home and create the right conditions for mold growth and wood rot. Wet supports will start to bend over time and fail to properly reinforce the floor above.
Pest Infestations: Pests – like insects and rodents – can also access your crawl space through open vents and exposed dirt floors. They typically feed off organic materials like wood, which can further weaken joists and other support systems.
Improper Installation: Your home's builders may not have properly installed your home's supports. If this is the case, incorrectly installed supports or those that have moved over time can fail to provide the necessary stability, leading to bouncy floors.
Over Spanning Joists: Similarly, the floor joists in your crawl space could be over spanned. This means they are too widely spaced or too lengthy relative to their depth. They could flex excessively, causing the floor to bounce.
How to Repair Bouncy Floors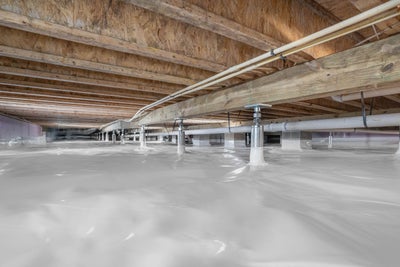 Tackling bouncy floors requires identifying and addressing the underlying cause. This could involve setting up additional supports, replacing damaged joists, installing specialized crawl space support posts, or waterproofing, encapsulating, and dehumidifying your crawl space to protect against moisture damage.
Crawl spaces are typically tight areas that contain home essentials like plumbing and ductwork, and even hazards like mold and pests.
Given the delicate and dangerous nature of this space under your house, as well as the uniqueness of each case, it's vital to have a professional evaluate your home to determine the most effective solution.
Trust the Pros at Baker's Waterproofing for Reliable Repairs
Don't let bouncy floors threaten your home's safety and comfort. At Baker's Waterproofing, our team is equipped with the knowledge and experience to detect and fix bouncy floor problems. We encourage you to reach out to us to schedule a free inspection and estimate to begin the process of repairing your bouncy floors and protecting your home.
We've been helping homeowners throughout Pennsylvania repair and protect their homes for more than 45 years. We're also part of the Groundworks family of companies – a trusted national name in foundation and crawl space repair. You can count on us to deliver the best customer care, services, and solutions for your home's structural problems.
FAQ: Bouncy Floors
The causes of a sagging floor can be broken down into two main categories: issues with the flooring or issues with its support system. This can mean faults and flaws in the wooden floorboards, in the joists that support them, or in the wider structure of your property. For example, a damaged foundation or leaning walls can undermine the stability of your flooring and lead to it sagging, bending, cracking, or even collapsing. The best thing you can do is maintain your property, keep an eye out for any problems, and promptly contact repair professionals when you notice issues like sagging, bouncy floors.
While minor repairs may be handled by homeowners with some DIY knowledge and experience, it is generally advisable to hire a professional for significant problems like bouncy floors. Crawl space repairs can be complex, and improper fixes might exacerbate the issue or fail to adequately address the underlying cause. Hiring a professional ensures that the problem is correctly diagnosed, and appropriate measures are taken to fix it, ensuring the long-term safety and stability of your home. 
Our professional team addresses bouncy floors by first inspecting the crawl space so we can diagnose the underlying issue and apply the most appropriate solution. This typically involves installing SettleStop IntelliJack™ crawl space support posts. These supports – made specifically for tight crawl spaces – are cut to fit each crawl space's unique height and are easily adjustable. They provide permanent reinforcement for floors and floor joists and can potentially lift these components back toward their original positions.