Leaking Basement Windows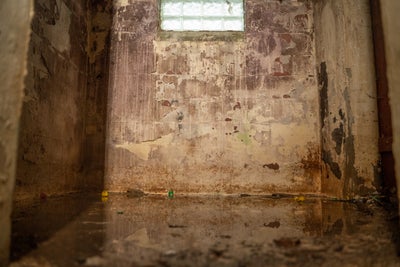 Basement windows and egress systems offer valuable benefits, but they can also pose problems. Leaky windows are a common issue that can lead to disaster, posing a variety of health and safety hazards to your home and family. For example, mold growth from moisture can cause respiratory problems, and structural damage can weaken your home's foundation.
Baker's Waterproofing is your reliable ally in addressing this concern, offering custom, enduring solutions that go beyond quick fixes. Our expertise lies in comprehensive basement waterproofing solutions that target the underlying issue, providing you with lasting peace of mind.
This page provides all the information you need about leaky basement windows: their causes, effects, and solutions. Equip yourself with the knowledge necessary to make the best decision for your home.
What Are Leaking Basement Windows? 
Leaky basement windows allow water to enter the indoor space. They are characterized by:
Visible moisture marks
Water staining
Water accumulation around window frames
Aging or damaged basement window systems are vulnerable to water pressure, which seeks the easiest route into your home. Leaking windows often lead to other problems, such as: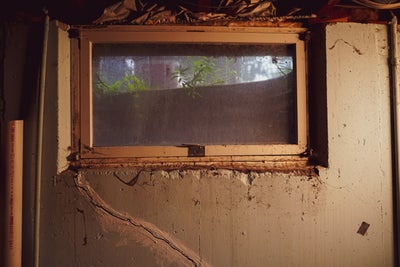 Leaking basement windows can cause significant water damage in your basement and home, affecting both structural integrity and safety. If you observe any of these issues, it's crucial to promptly reach out to local basement waterproofing experts like Baker's Waterproofing to address the root of the problem.
What Causes Leaking Basement Windows? 
The leading causes of leaking basement windows include:
Material decay: Wood, metal, and vinyl window frames can corrode and rot over time, creating gaps that allow water to seep in.
Poor installation: Improperly installed windows can leave gaps around the frame and sill, making them vulnerable to leaks.
Age: Older windows are often less energy-efficient and more prone to leaks.
Drainage problems: If the drainage system around your basement window well is clogged, water can back up and seep into your home.
External pressure: Hydrostatic pressure from expansive clay-based soil can force water through even the smallest openings in your foundation walls.
Climate conditions: Heavy rains, snow, and seasonal changes can put additional stress on basement windows and make them more likely to leak.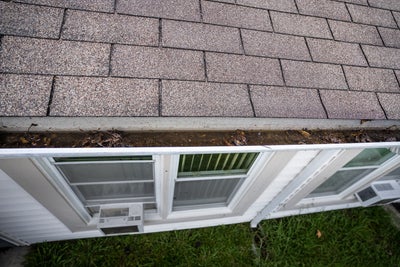 Since these issues can be intricate, precise diagnosis is essential for effective repairs. Contact Baker's Waterproofing for a comprehensive, complimentary inspection.
Can You Fix Leaking Basement Windows? 
Yes, leaky basement windows can be fixed, but it takes more than a quick patch job. Temporary solutions like re-caulking windows or waterproofing paint will only provide short-term relief. To fully address leaking basement windows, you need a whole-home solution.
At Baker's Waterproofing, we provide comprehensive basement waterproofing systems that treat the root causes of your leaks, ensuring they don't happen again. Our solutions include exterior drainage systems, interior drainage systems, sump pumps, and foundation repairs.
How to Fix Leaking Basement Windows 
Here is what you can anticipate from Baker's Waterproofing when it comes to repairing leaking basement windows:
Complete inspection: Our experts identify the leak source and recommend custom repairs.
Interior drainage system: Catches leaks and directs them to the sump pump, relieving hydrostatic pressure.
Sump pump: Actively pumps water out of the basement and away from the home.
Wall vapor barrier: Prevents moisture from entering the basement, helping to keep the home dry and mold-free.
Dehumidifier: Reduces moisture levels in the basement, preventing mold growth and improving indoor air quality.
Wall anchor reinforcement: Stabilizes walls to prevent further cracks and movement that can lead to leaks.
Egress window upgrades: Enhance home safety and meet code requirements by creating a watertight seal around the window frame and openings.
Our custom-engineered solutions permanently seal leaking basement windows and keep water out, regardless of the challenges your home presents.
Why Address Leaking Basement Windows 
Here are some of the most important reasons why you should fix leaking basement windows as soon as possible:
Mold Prevention: Mold flourishes in damp environments.
Energy Efficiency Boost: Leaky windows lead to higher heating and cooling costs.
Structural Integrity Preservation: Excess moisture can weaken your home's framework.
Belongings Protection: Water damage can destroy valuable items stored in the basement.
Home Value Enhancement: A wet, damaged basement adversely affects your home's resale value.
For a comprehensive resolution to leaky basement windows, you can trust Baker's Waterproofing. Our exclusive products are engineered to provide efficient, long-lasting solutions.
Contact Baker's Waterproofing for Reliable Basement Waterproofing Solutions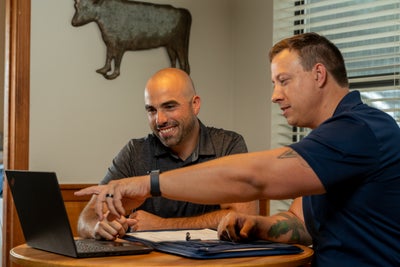 Don't let leaking basement windows ruin your home and your peace of mind. Baker's Waterproofing is committed to providing efficient, long-lasting solutions. Contact us today for a free, no-obligation inspection to take the first step toward a drier, healthier home.
For over 30 years, we've helped homeowners in Pennsylvania and West Virginia keep their basements dry. We're here to help you too, with unmatched customer care and reliable repairs that create safer, healthier living spaces.
FAQs
While temporary solutions are an option, we highly recommend seeking professional assistance for a permanent and reliable resolution. DIY repair projects are not recommended due to their potential complexity, costliness, and temporary nature. Contact Baker's Waterproofing to schedule a free inspection and learn about financing options. 
Basement waterproofing repair costs vary depending on factors such as the extent of damage and the repair methods used. Remember, timely repairs are essential in preventing further damage and ensuring the long-term integrity of your basement. At Baker's Waterproofing, we provide complimentary inspections, along with no-obligation estimates, ensuring convenience and transparency in pricing. 
We complete most basement window projects within a few days, although the exact timeline hinges on factors like the scale of the issue, required repair methods, and any necessary permits. When you contact Baker's Waterproofing for a free inspection and estimate, our experts will also provide you with an accurate project timeline. This ensures you have a clear understanding of the process from start to finish. Protect your home's long-term structural integrity with timely basement waterproofing.  
Publish Date:
Last Modified Date:
Explore more problem signs