We Believe the Right People Make Our Company Great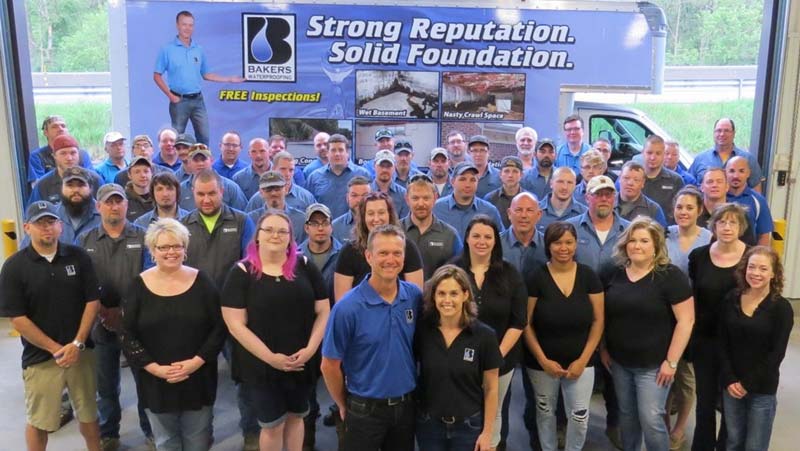 Since 1975, Baker's has been the industry leader in the basement waterproofing and foundation repair field. We put customer service as our # 1 focus.
Because of this, we are constantly seeking talented individuals that have proven themselves to be self-starters, disciplined, and reliable. We value and promote individuals who perform with the following traits: Integrity, Excellence, Innovation, Outreach, & Unity, and will not accept anything less.
At Baker's, your performance is tied to your income. If you believe you are a person with these traits, and are interested in joining our team, please select one of the options below. We are always looking for candidates with Construction, Carpentry, Sales, Administrative, and Customer Service backgrounds.
Customer Service Representative
Baker's Waterproofing Co. Inc., a regional leader in the foundation repair industry, is seeking a Customer Service Representative. Baker's purpose is to redefine the construction industry by pushing beyond the status quo and providing our customers with a remarkable experience. We are proud to be a Top Workplaces winner in 2019! We have also been recognized with the following awards for our achievements: Pittsburgh Business Ethics Award 2017 & 2012, Family Business Award 2016, Washington County Certificate of Community Service 2016, BBB Torch Award and runner-up 2012, 2009, 2007, and more.
If you pride yourself in creating and executing detailed plans, provide remarkable customer service, and want to be valued for what you bring to the team, apply today to join us as a Customer Service Representative.
Job Duties
Be the "glue" that keeps all the logistical aspects of our construction jobs running well
Review and coordinate all paperwork needed for our production installations, including the contract, pre-installation information, job costing, etc.
Stay in close communication with our customers as needed for each project, including scheduling their installations, checking on quality issues, and ensuring that they are constantly in the know
Keep client records and files updated so they are always ready when we need them
Ensure our construction projects are complete and error-free
Provide tactical support to the production department and managers
Job Requirements
Demonstrable experience in logistics, administration, and/or customer service
Client service focus – understand the need, solve problems, and respond in an efficient manner
Exceptional telephone and interpersonal skills
Self-motivated and energetic
Ability to exercise independent judgment and discretion
Organizational skills – ability to manage time and multi-task
Attend to tasks with accuracy and in great detail
Proficiency in Microsoft Office computer applications required, plus ability to navigate software programs
At Baker's Waterproofing Co. we redefine our industry not only for our customers, but also for our employees. We highly value our employees and strive to make our company a great place to work. We offer a family-oriented environment, a casual dress, the tools and training you need to get the job done the right way, and a competitive pay and benefits package. If you think you'd be a great fit on our team, we'd love to have you apply.
Additional Information
Job Type: Full-time
Experience: Entry Level
Contact Information
Name: Amber McGinnis
Phone: 1-724-239-6818
Email: [email protected]