We Believe the Right People Make Our Company Great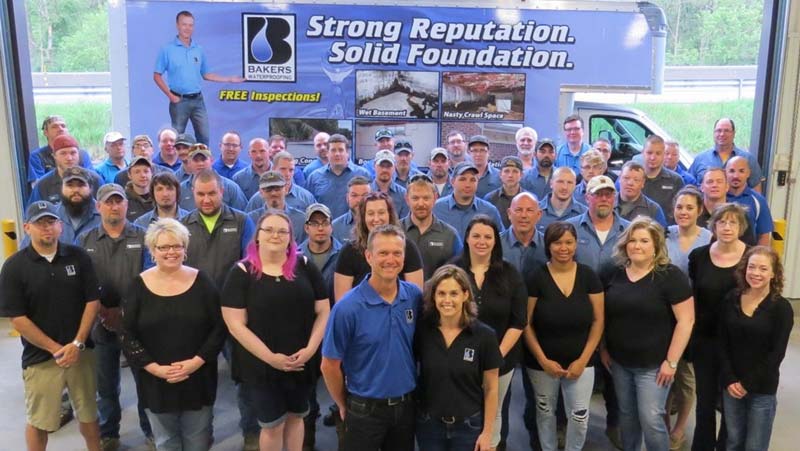 Since 1975, Baker's has been the industry leader in the basement waterproofing and foundation repair field. We put customer service as our # 1 focus.
Because of this, we are constantly seeking talented individuals that have proven themselves to be self-starters, disciplined, and reliable. We value and promote individuals who perform with the following traits: Integrity, Excellence, Innovation, Outreach, & Unity, and will not accept anything less.
At Baker's, your performance is tied to your income. If you believe you are a person with these traits, and are interested in joining our team, please select one of the options below. We are always looking for candidates with Construction, Carpentry, Sales, Administrative, and Customer Service backgrounds.
Concrete Repair Specialist
We are seeking individuals to operate our Spray Foam Rig for concrete lifting and leveling. Having skills in one or more of the following is helpful: plumbing, masonry, electronics or mechanics. Installers will also work on the completion of waterproofing and foundation repair work.
If you have a strong work ethic and want to be a part of "wowing" our customers, we'd love to have you on our team!
Duties / Responsibilities:
Loads trucks with materials, tools, and equipment as instructed by the Team Leader. Uses safe methods in handling tools and equipment. Makes efficient use of time.
Performs installation duties according to company approved methods and as instructed by the Team Leader. Completes work to meet Baker's standards and timetables. Uses safe methods in handling tools and equipment. Makes efficient use of time.
Regular and punctual attendance. Ability to work overtime if needed. Ability to travel overnight during the week.
Skills / Requirements:
Valid driver's license
Ability to occasionally travel overnight for a night during the week
Perform physical labor and get rewarded with excellent pay and benefits
Unrestricted lifting ability
Clean driving background
Construction experience preferred, but not required
Excellent communication
Pre-employment drug screen and background check for criminal history
Our mission is "To be the best in our industry. We aim to 'wow' our customers every step of the way." If you are interested in advancing your career and income by joining our winning team, please apply today!
Additional Information
Job Type: Full-time
Experience: Entry Level
Contact Information
Name: Amber McGinnis
Phone: 1-724-239-6818
Email: [email protected]