We Believe the Right People Make Our Company Great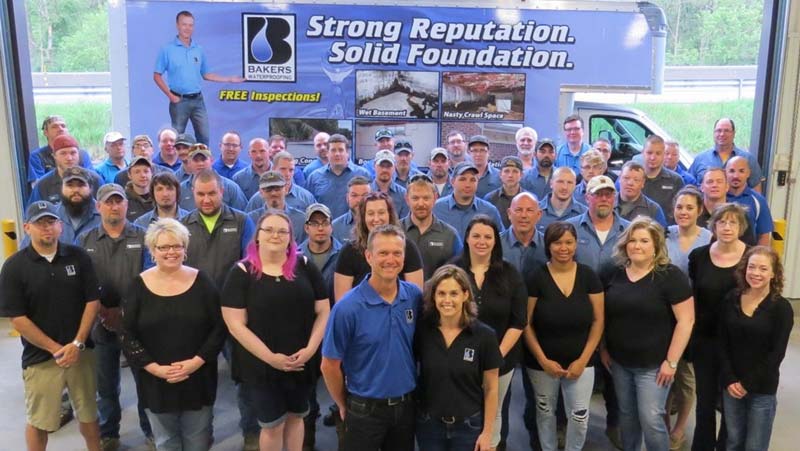 Since 1975, Baker's has been the industry leader in the basement waterproofing and foundation repair field. We put customer service as our # 1 focus.
Because of this, we are constantly seeking talented individuals that have proven themselves to be self-starters, disciplined, and reliable. We value and promote individuals who perform with the following traits: Integrity, Excellence, Innovation, Outreach, & Unity, and will not accept anything less.
At Baker's, your performance is tied to your income. If you believe you are a person with these traits, and are interested in joining our team, please select one of the options below. We are always looking for candidates with Construction, Carpentry, Sales, Administrative, and Customer Service backgrounds.
Sales Representative
Baker's Waterproofing, a regional leader in the foundation and concrete repair industry, is seeking to expand our sales team. In this role you will consult with homeowners at appointments we have scheduled for you. Your goal? To diagnose the issues they are experiencing with their home and provide the best solution for them.
What We Would Provide You
High-quality, warm leads – no cold calling!
A solid benefit package
Best in class training and state-of-the-art software that sets you up for success
A trusting, respectful, and fun culture
A company you can be proud to represent – we've been awarded Family Business Award, Washington County Certificate of Community Service, Pittsburgh Business Ethics Award and more.
Opportunities for your professional growth
What We Need for this Role
1+ years of experience in the residential real estate, home inspection, or home improvement industries is a plus, but not required
Construction experience is a plus, but not required
Being able to and comfortable with entering a crawlspace underneath a house
Strong listening, closing, and follow-up skills
Ability to walk, climb a ladder, kneel, and crawl
A valid driver's license and a safe driving record
Skill in operating computer software (we will train you)
Our purpose is to redefine the construction industry by providing our customers with a remarkable experience. We care deeply for and strive to build a long-term relationship with each customer. At Baker's we also redefine for our employees. We want our employees to know that they are the most valuable to us and experience success in a way they never imagined for themselves.
For more information on our company: https://www.bakerswaterproofing.com/
Additional Information
Job Type: Full-time
Experience: Experience Required
Contact Information
Name: Amber McGinnis
Phone: 1-724-239-6818
Email: [email protected]