We Believe the Right People Make Our Company Great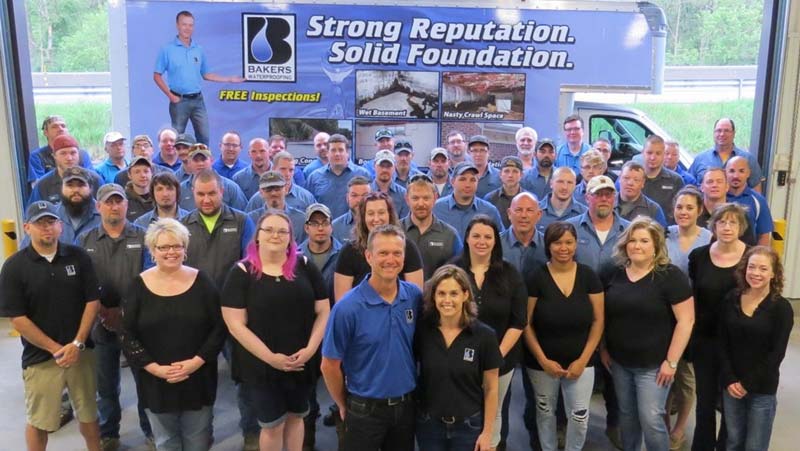 Since 1975, Baker's has been the industry leader in the basement waterproofing and foundation repair field. We put customer service as our # 1 focus.
Because of this, we are constantly seeking talented individuals that have proven themselves to be self-starters, disciplined, and reliable. We value and promote individuals who perform with the following traits: Integrity, Excellence, Innovation, Outreach, & Unity, and will not accept anything less.
At Baker's, your performance is tied to your income. If you believe you are a person with these traits, and are interested in joining our team, please select one of the options below. We are always looking for candidates with Construction, Carpentry, Sales, Administrative, and Customer Service backgrounds.
Service Technician
SERVICE TECHNICIAN
If you have a strong mechanical aptitude and the ability to educate/consult with homeowners, apply today to become a Service Technician with us.
Baker's Waterproofing is an ever-growing leader in the foundation repair industry. Baker's purpose is to redefine the construction industry by providing our customers with a remarkable experience. We realize happy customers lead to referrals and more happy customers.
Service Technicians help our customers with systems we have already installed for them, as well as, advise our customers on additional foundation solutions for new issues that have arisen in their homes. You'll receive:
Pre-set appointments and the use of a company vehicle for appointments
Opportunity to earn an hourly wage and overtime
In addition, earn commissions = great earning potential
Comprehensive Training on our services and products
At Baker's we redefine our industry not only for our customers, but also for our employees. We highly value our employees and strive to make our company a great place to work. We offer a family-oriented environment, uniforms, competitive pay and benefits package.
If you have solid work experience, a mechanical aptitude and want to be valued for what you bring to the team, apply today to join us as our Service Technician.
All offers of employment are contingent on the ability to legally drive a motor vehicle, pass a pre-employment drug screen and background check. EEO
Additional Information
Job Type: Full-time
Experience: Experience Required
Contact Information
Name: Amber McGinnis
Phone: 1-724-239-6818
Email: [email protected]